DESTINATION REDPOINT
Climbing is Olympic and I'm in the thick of it
The Olympics happened despite all odds, and I'm glad they did. The days since have been a hectic but joyful rollercoaster ride. Not a lot of time has passed, but before my emotions sink in completely, I want to take a moment to share a few thoughts on my Olympic experience!
It was great for the world to see the sport we all love in a new light. Not just for the performances, but also for the companionship between the competitors, who at the end of the day, are a bunch of likeminded people loving the same thing. The stoke was real, and certainly neither limited to just the climbing community nor to the countries of the participants. The amount of feedback received from all over the globe and the shared excitement from all sides made the scope of the Olympics tangible. This was definitely the biggest stage competition climbing has ever been on.
Arriving in the Olympic Village made me realize the size of this event for the first time really. Flags from every nation on the balconies and windows, athletes from all the different sports bustling through the streets, shouts of joy or despair coming from apartments, as someone just won or lost – it was a vibe I've never experienced before; the whole world of sports was present and the shared excitement was obvious. I absolutely absorbed every second of it!
Speaking of the climbing competition, emotions couldn't have been wilder on my end. In fact, until the end of the bouldering round, I had the feeling that things were turning against me. This feeling had actually already come up after the qualification round, when it became clear that Bassa Mawem's injury would definitely prevent him from climbing in finals. In addition to this unexpected turn of events, the global stoke that had been ignited by seeing climbing broadcast on the Olympics was accompanied by some controversial discussions about the format and scoring system. I do believe some of it is justified, but I feel that it was too often communicated emotionally or even completely out of context. That's also why I wanted to share my thoughts.
There was already plenty of discussion when the Olympic format was announced five years ago. Basically, the majority of climbers who ended up qualifying for the Olympics had never considered competing in speed before the combined format was chosen. It can be considered a fact that lead and bouldering, despite their differences, relate to each other far more than the discipline of speed.
On the other hand, a solution had to be found that would include all disciplines and simultaneously encourage a broader climbing program for future Olympic Games. Not an easy task to start off with, and certainly one that would not make everyone happy. As anticipated, there was a wild debate, but despite all discussions it left all the contenders with a pretty simple, binary decision. Going for it or not. So despite not being fully content with the format, at some point I decided not to waste any more energy in trying to fight something that was set. I wanted to go to the Olympics. Combined was chosen, so combined it is.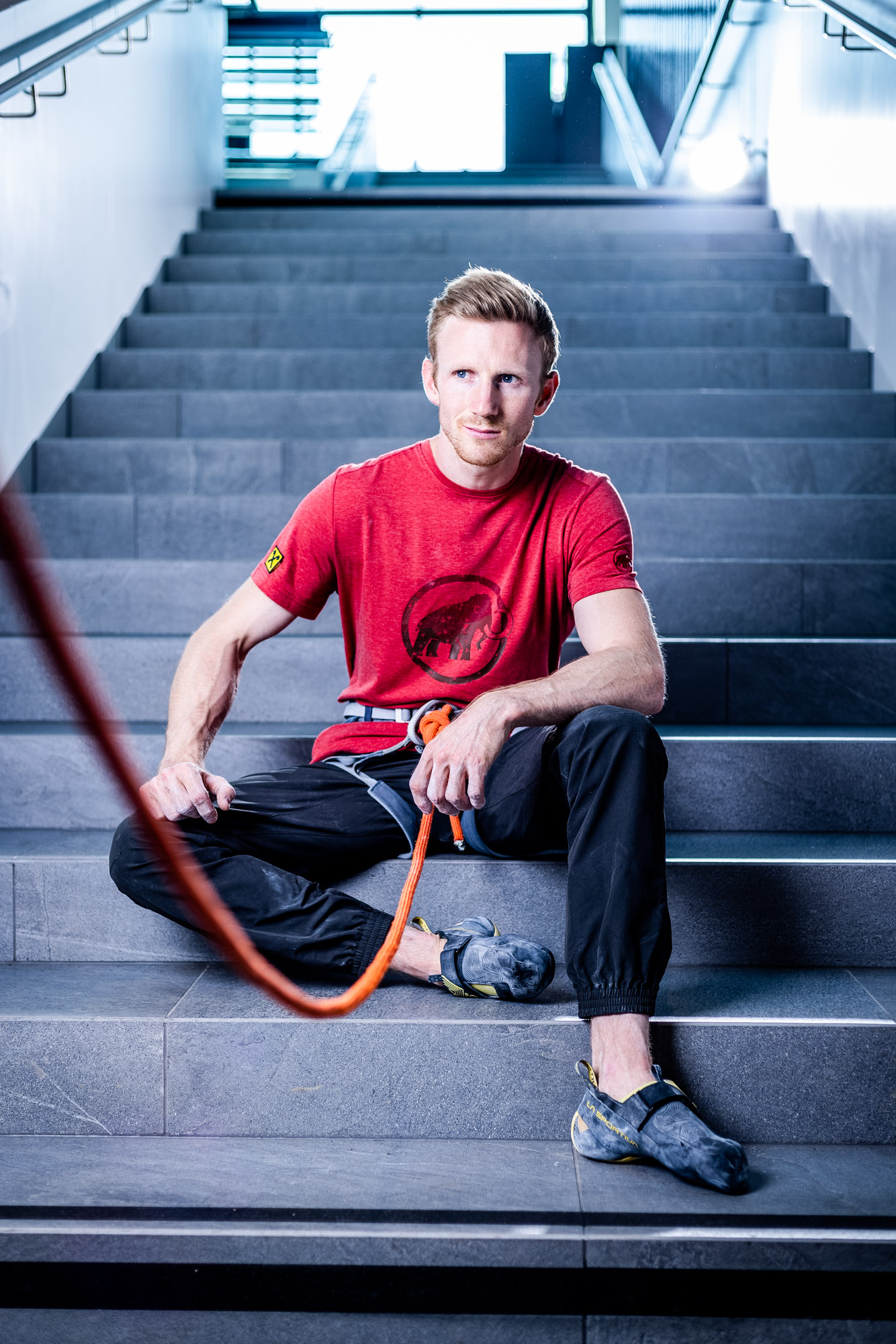 I understand those who still see a silver lining regarding the format, but I believe it is important to differentiate between where climbing currently is as an Olympic sport, and where it should be in the future. Although it would have been ideal to have all three disciplines as separate events to start off with, this wasn't possible. Climbing was given one spot and a combination format was chosen. Period. It was found that multiplying results was the most fitting scoring system to determine the best athlete from the three disciplines. Period.
Tokyo will be remembered as climbing's first Olympic appearance with a format that — due to the described circumstances — made sense and served the purpose of being the least common denominator. Climbing will evolve and improve as an Olympic format, of that I'm sure. Paris 2024 will see speed as a separate discipline, and bouldering and lead combined, which is definitely a step into the right direction. The attention and feedback received made me feel confident that climbing will be here to stay at the Olympics, and the closer we get to having all disciplines included as separate events for themselves, the better.
The few events that hosted the combined format prior the Olympics already proved to be exciting to watch, but difficult to keep an overview on the standings. This was brought to a new level at the Olympics where the extent that the multiplication could flip results upside down became apparent in a whole new dimension.
My role in the lead portion is a good example: if I had stayed behind Adam, he would have taken gold and I would have been last, but with my top I scored for bronze while Adam was pushed back to 6th place. On the other hand, if I hadn't surpassed my personal best in speed in the qualification, I could have been last and therefore the lucky one to be given the freebie 4th place in speed. This scenario would have seen me earn gold.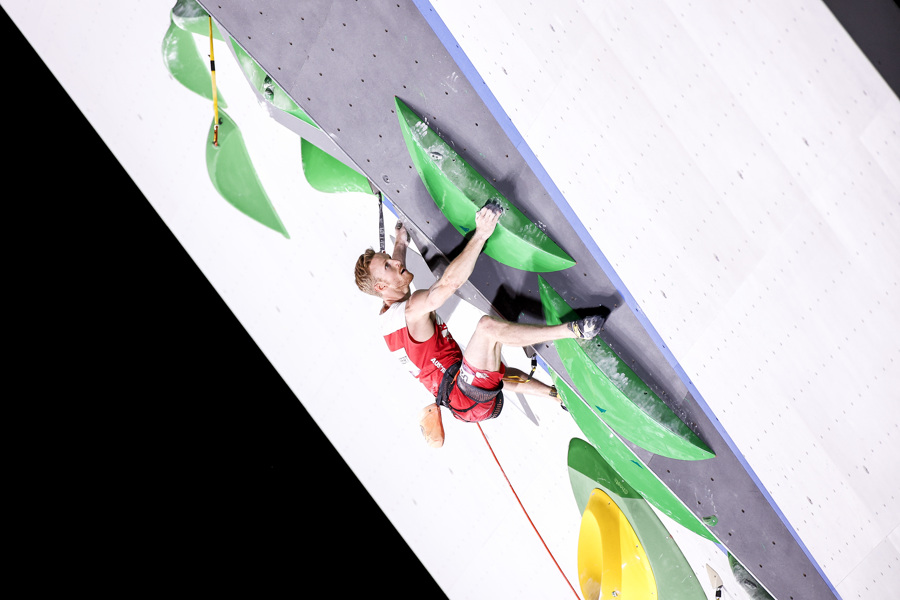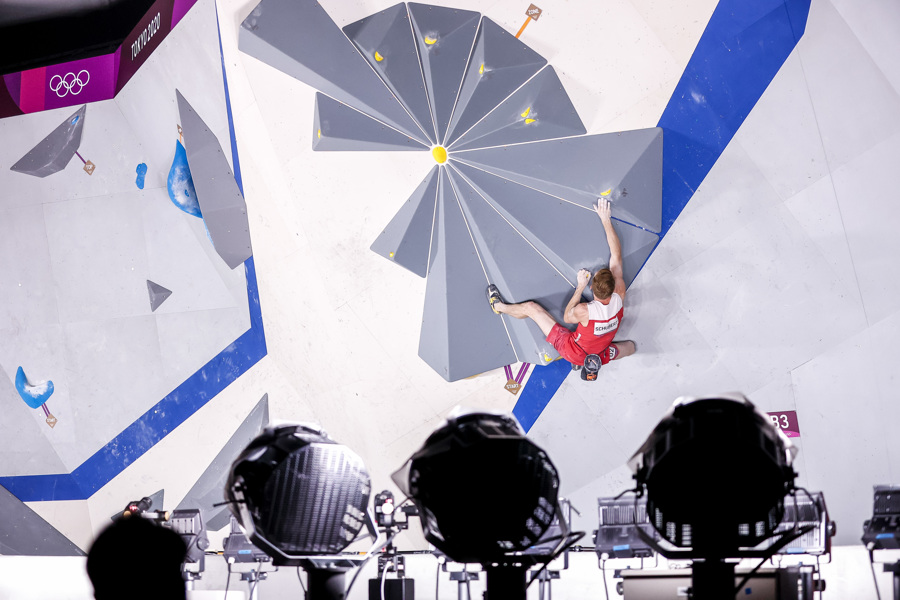 Speaking of the speed portion, this is where I truly believe things should have been handled differently. Bassa's injury was certainly unfortunate, but the way it was dealt with wasn't good. I understand that lifting Alex Megos (placed 9th after qualification) into the finals is difficult as the 8th place belongs to Bassa despite his injury, but I do think that it would have been a lot fairer to give the best speed climber the freebie run instead of lifting the lowest ranked speed climber to a rank he would have — in normal circumstances — not be able to reach.
I'm writing this considering the way I've gotten to know Adam over the years. He is the last one who wants something handed to him by a fluke chance. This way of dealing with Bassa's withdrawal was brought forward to the officials, but was rejected, to our dismay. It was hard to accept this decision, to be honest I tried to keep it out of my head going into the final round, but I simply couldn't. Knowing that Adam was handed a fourth place, and seeing how the speed round evolved thereafter, left my head spinning.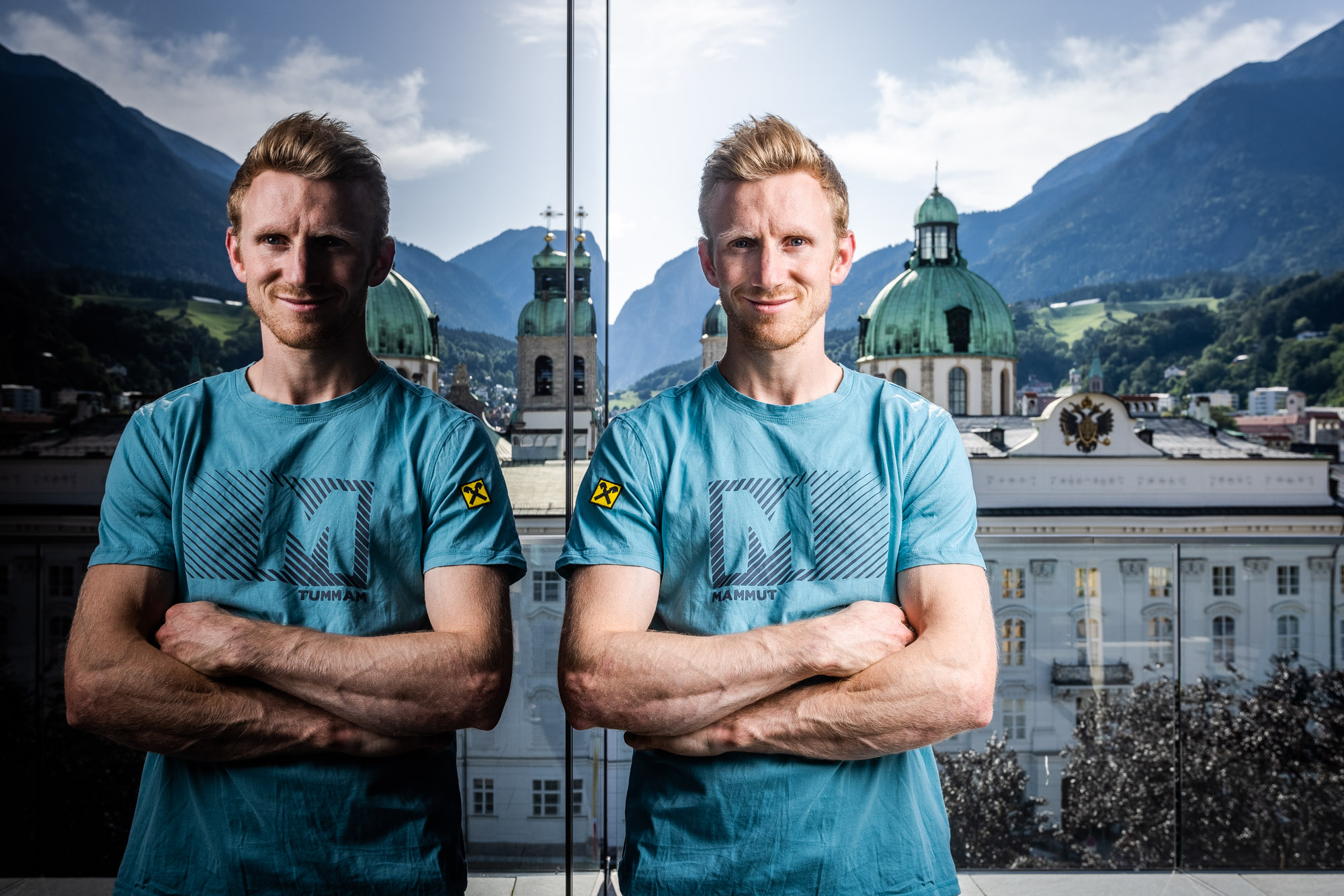 Even if I personally feel there was a better way to deal with the circumstances, I will not look back on it with resentment or regret. Holding a medal in your hands certainly helps digest things you feel should have been handled differently. Another way to see it is that maybe this unfortunate situation just added to the sweetness of how the competition ended for me. Stepping onto the lead route, I actually wasn't as nervous as I had been the previous rounds. Part of me had already resigned from the possibility of earning a medal. I knew the odds were against me and the chances were small, so all I focused on was showing off my best performance in my favorite discipline.
I obviously didn't know how far the others had gone. I had a feeling that no one had reached the top, but I wasn't certain. As has happened many times before, I felt completely in the zone once I left the ground, but it hasn't been that often that I've been able to channel all my remaining energy and experience, combine it with the anger and frustration from previous rounds, and turn it into a perfect climb — one that had me floating through difficult sections upwards and upwards. Even the poor friction was inferior to the flow that seemed to carry me. Reaching the top, I could hear the small audience go crazy, and I was also happy with my climbing, but still in disbelief that the final result would see me on the podium.
Most who are reading this have already seen the rest: I was just trying to untie my knot when my coach since my childhood days ran towards me, pointing three fingers at me in total excitement. This was the moment I realized that I would have a medal around my neck. It was like a strike of lightning that sent joy and delight through my body in a dose I hadn't experienced before. It was a surreal moment where all I could do was scream. There was no holding back and also no need to.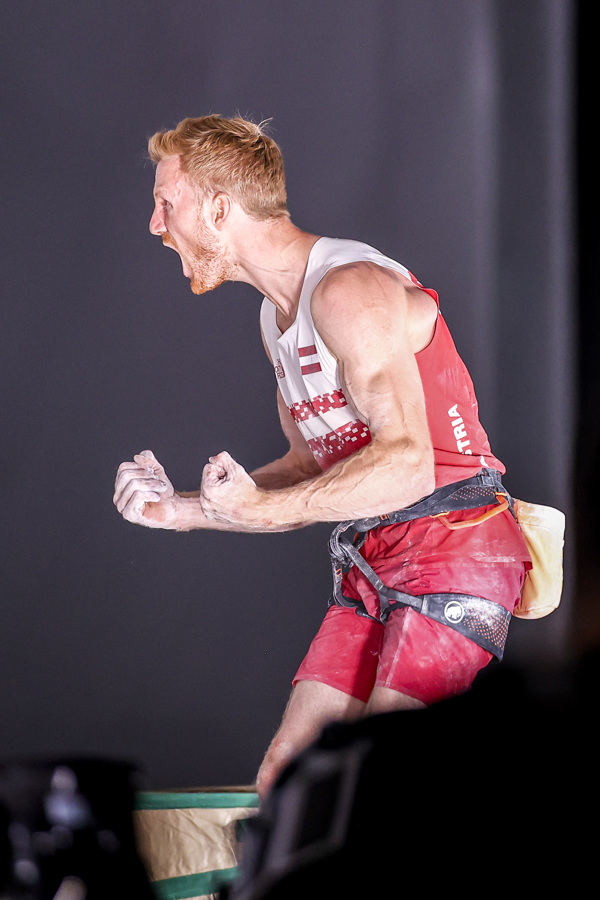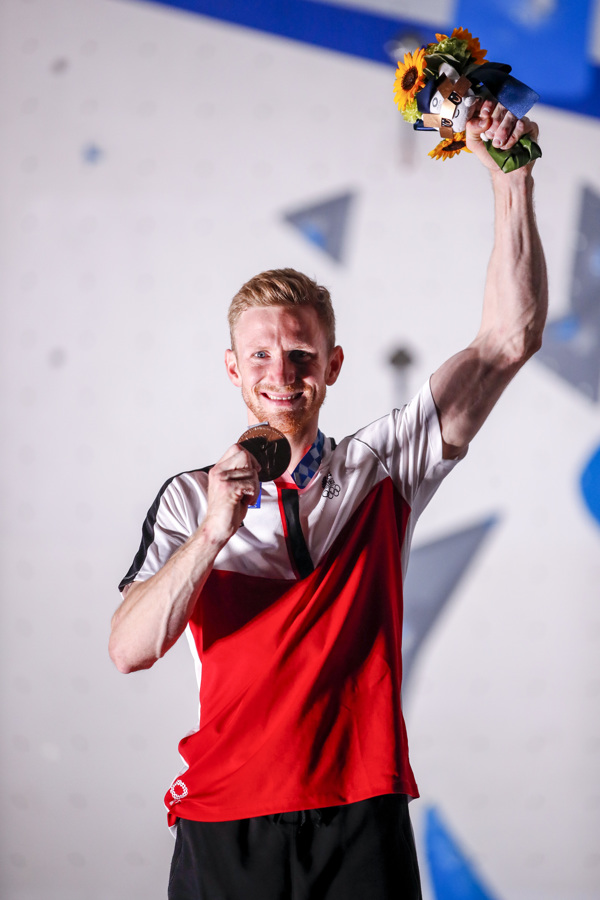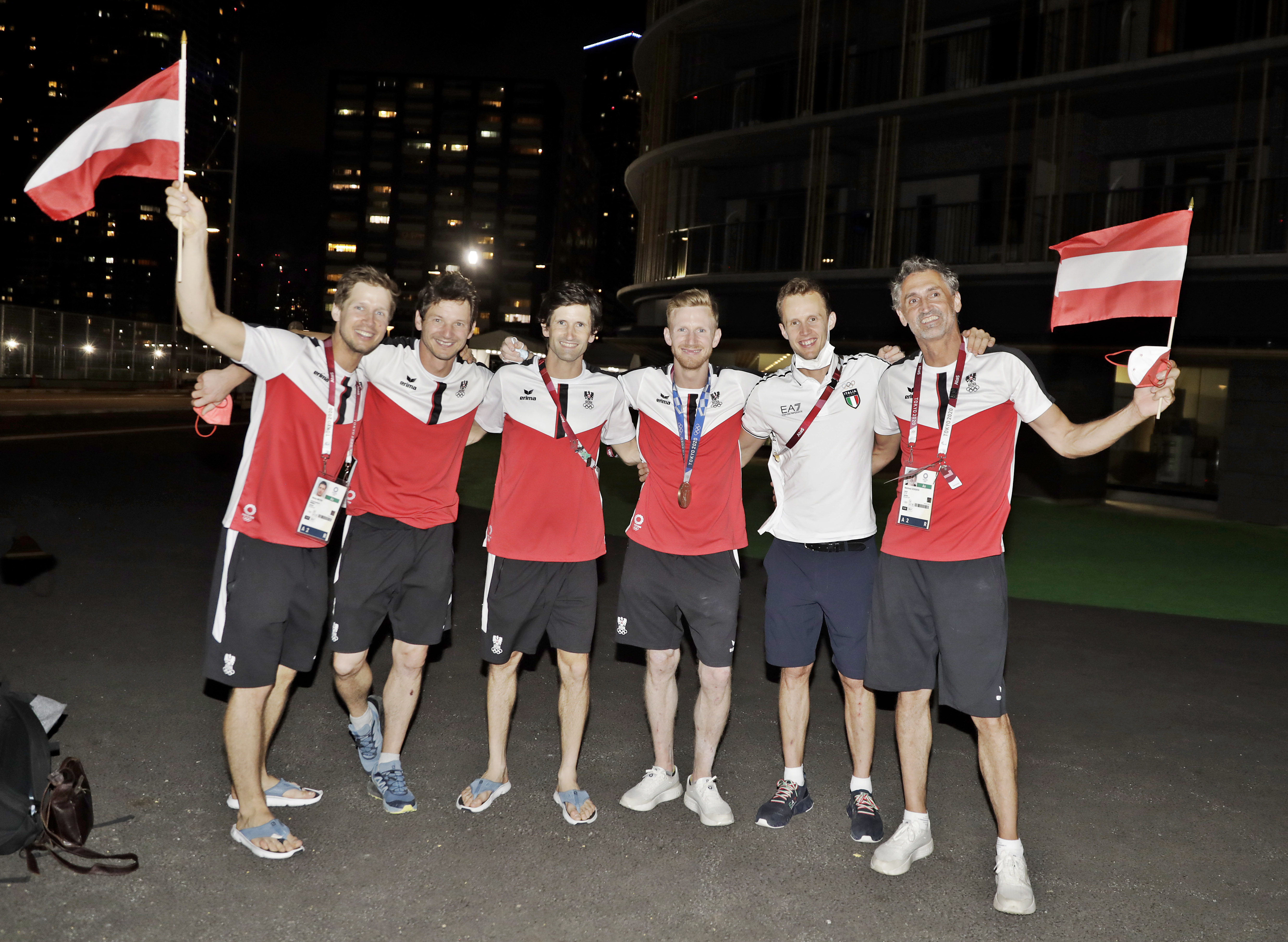 More than in any competition I have been part of, joy and sorrow were close together on this one. I too would have lost quite some money on a bet that neither Tomoa nor Adam would end up on the podium — they were also my favorites for the top spot. But as in any single event, results do not determine who is generally the best at something, but rather, who is the best on that specific day.
I'm truly happy for Alberto and Nathaniel; you cannot outsmart the math, and there is a reason why they ended up where they did. Speaking for myself, I know that a bit of good fortune could have brought me higher up on the podium, but at the same time, the surrounding circumstances make my medal shine even brighter to me.
To sum up, participating in the Olympics is a once in a lifetime experience that I can't compare with any other events our sport has seen. I wouldn't trade it for anything, and I'll do my best to conserve the inner stoke and let it guide me through 2024, as I'd love to step onto that stage again. A lot is planned to happen till then, but first things first: some skin needs to grow back on my fingers!
Thank you all for cheering us on, it means the world to me. What an incredible journey this has been! See you out there, everybody.
Watch the Olympic climbing final here
Speed: 7:13
Bouldern: 1:20:45
Lead: 4:26:56
Photocredit: ÖOC / GEPA | Simon Rainer