DESTINATION REDPOINT
Climbing is Olympic and I'm in the thick of it
It's been nearly five and a half weeks since I returned to Innsbruck from Tokyo with my voice hoarse and a bronze medal around my neck. My climbing journey is continuing already - this time to the World Championships in Moscow.
Although I still love to think back on the Olympics - everyone's noticed, I'm asked about it all the time, and I'm recognized on the street and asked for photos, especially by children - it was important over the last few weeks to get some distance, clear my head, and recharge my batteries.
After the Games, I was physically and mentally exhausted. You notice that you've been asking your body for everything it has for a long time, and the body gives clear signals that it's tired of it. The first training sessions after Japan were very different - it felt as if I hadn't been on the climbing wall in years.
Therefore, the two short breaks at Lake Garda, with less climbing and more relaxing, were extremely important for recharging my batteries. Above all, it helped me to find the mental motivation to prepare for another major event.
I have to admit that the rock climbing projects that I've planned for autumn are definitely on my mind and have continually come up during my preparation for the World Championships. I can't wait to finally spend time on the rock for weeks again.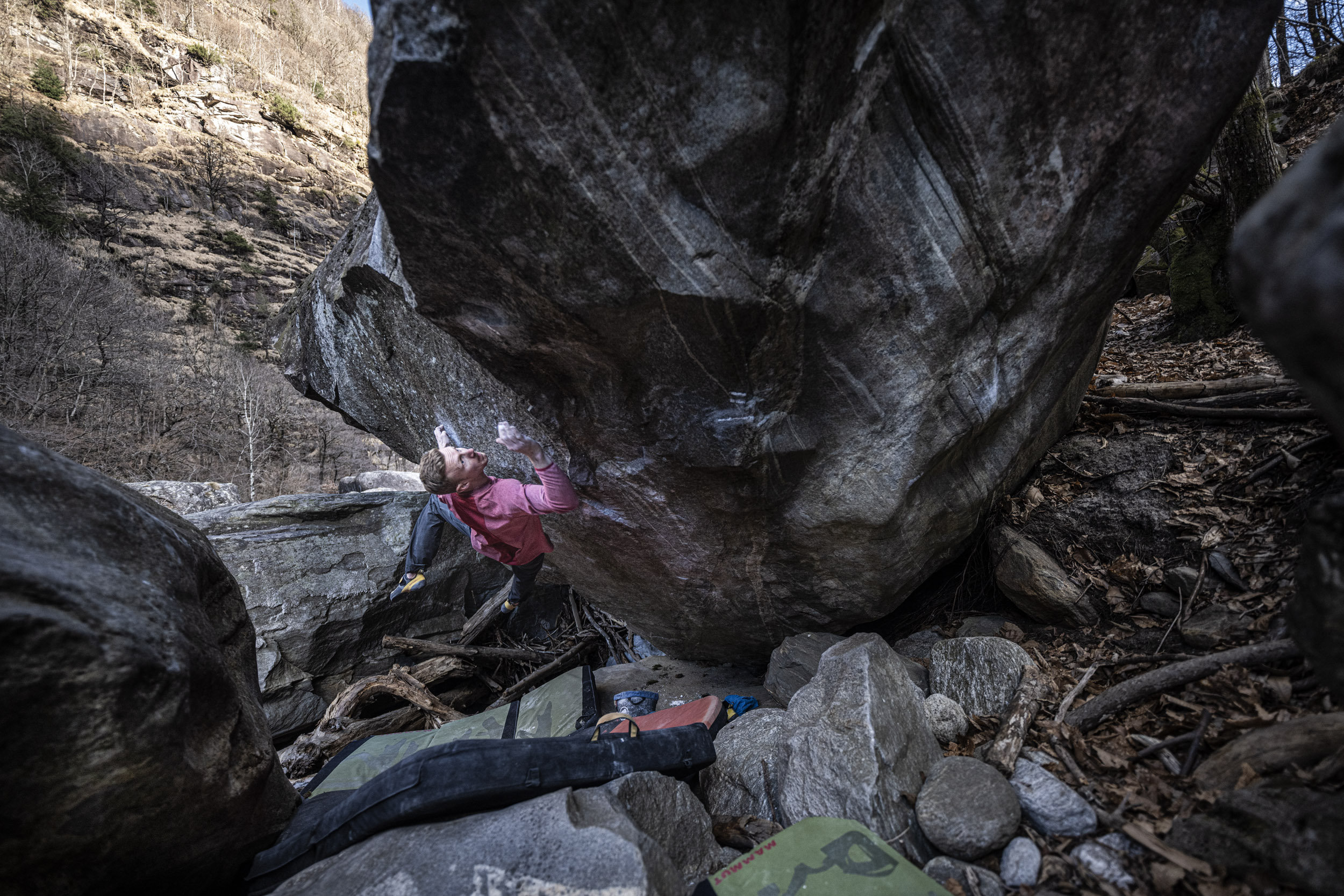 It's probably for that reason that I've recently uploaded a new video on my Youtube Channel which brings us to the boulder paradise of Ticino. When I watch this video, I'm reminded of the liberating feeling of nature, difficult lines, and endless possibilities.
The reason why I really enjoy going there mostly has to do with the superb granite blocks: they quite literally invite you to boulder and have made Ticino a hotspot for climbers. The possibilities appear endless and are enormously diverse, and on top of that, new boulders are constantly being found and explored. The fact is that even in bouldering, a sport that takes place at jump height, you have to keep on your toes and there's always some level of residual risk. This was made clear to me by my recent fall next to the crash pad during one of my attempts of the boulder classic "Memento" in Silvretta.
I was definitely very lucky. If I had landed on my coccyx or directly on my back, it would've been a lot worse. I ended up landing on my back side and my glutes got the brunt of it; after a few days all was good again.
If you watch the video, you're probably wondering why there was no crash pad exactly at that point. My reasoning was this: to successfully climb a boulder, there should be no contact whatsoever with the ground – even just grazing the crash pad with climbing shoes is improper. That's exactly what happened to me before in that boulder. I had actually managed the entire boulder, including the key move, but my feet bushed against the pad, and I didn't want to complete the boulder in that way, because I wouldn't have been 100% satisfied in myself.
For my next attempt, I placed the pad in a way that I'd be sure not to touch it under any circumstances. I was pretty sure that I wouldn't fall with this move, and if I did, not at that exact spot. By moving the crash pad, I was taking a certain risk, which I had estimated as being very small. Even though I would classify bouldering as generally very safe, you sometimes inevitably take risks. This time, I messed up and I got lucky!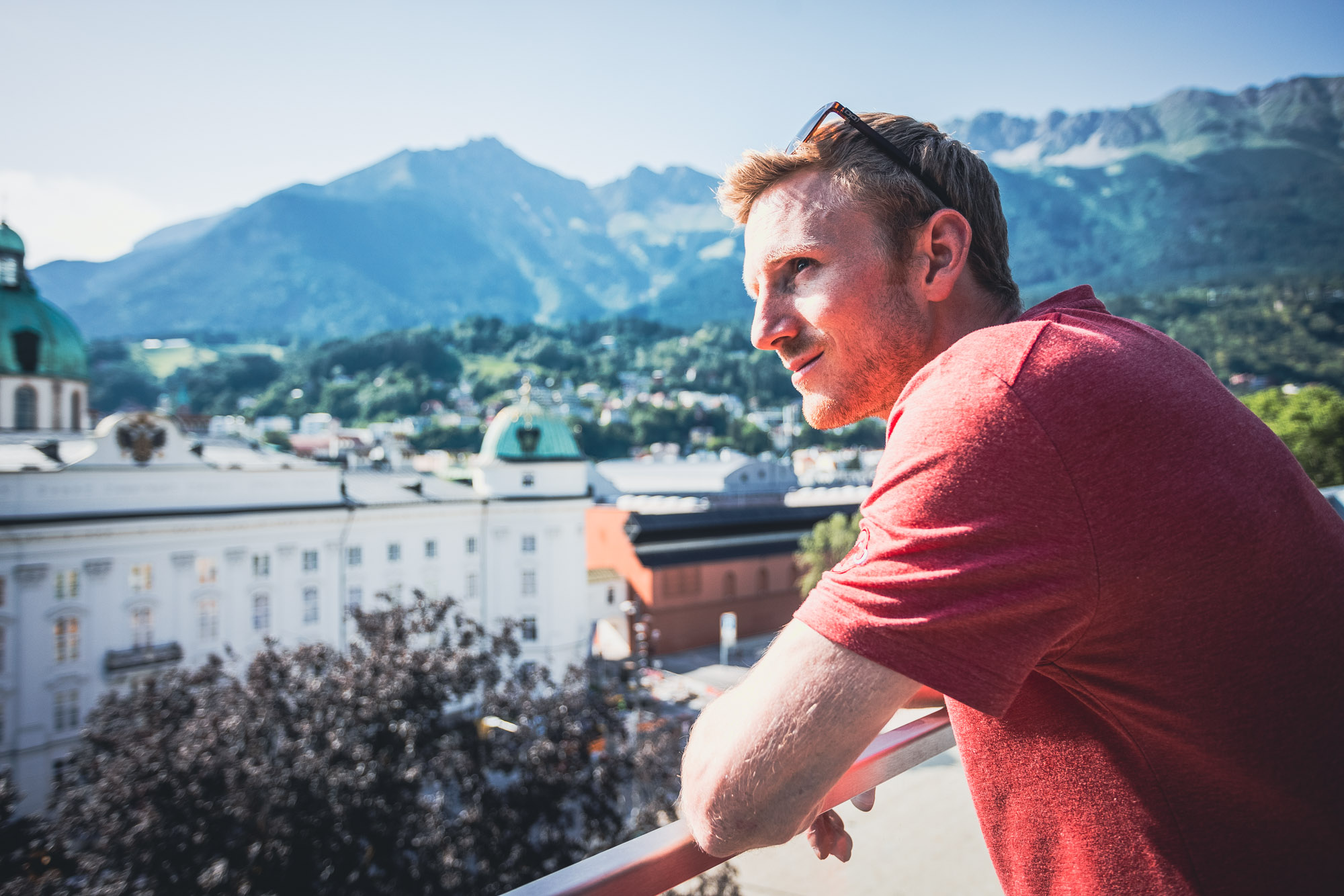 Innsbruck, Tyrol, is not only home but also a place of power and a place of great success.
My current journey to the World Championships has less to do with luck, and I'm definitely taking it more seriously. When I go to a competition, I want to deliver. Mentally it's somewhat different; I don't feel the nervousness and pressure like I did in the past. As I said, the WC isn't the only thing on my mind. But it's also different and interesting to head into a competition with such freedom.
I know that I'm in a good condition. I squeezed out everything I could in my preparations, and I believe I'm one of the favourites to win a medal, especially in lead climbing. If I can come close to delivering what I showed at the Olympics, then my odds are very good.
Adam Ondra and Alex Megros are missing. They're two of the big favourites who I've always competed against for medals at previous World Championships. The Olympic champion Alberto Ginés is also not taking part. On the other hand, there's a whole bunch of young athletes who weren't at the Olympics. Their season highlight is this World Championship, and their entire training process was geared towards it. So, there are some hot irons in the fire!
The biggest challenge for me at the moment is to maintain my excitement after achieving my big Olympic goal and deliver a second time.
In 2019 I had a similar constellation – at the time my focus was on the World Championship in Hachioji and there I managed to scoop up three medals; shortly after that I had to settle for seventh place at the European Championships.
This year I've already achieved my biggest career goal with my Olympic bronze medal, but I don't mind adding on yet another incredible moment.
In Moscow, my biggest focus is on lead climbing – like we know, anything can happen in bouldering – and I know that I have a very good chance of becoming world champion. That's my goal.
I would appreciate it if you kept your fingers crossed for me on Sunday (boulder) and Tuesday (lead)!
Photocredit: Elias Holzknecht | Sebastian Marko